8 Compelling Reasons to Choose a Real Estate Agent Over "For Sale By Owner" (FSBO)
Posted by Jon Lahey on Monday, September 11, 2023 at 4:33:53 PM
By Jon Lahey / September 11, 2023
Comment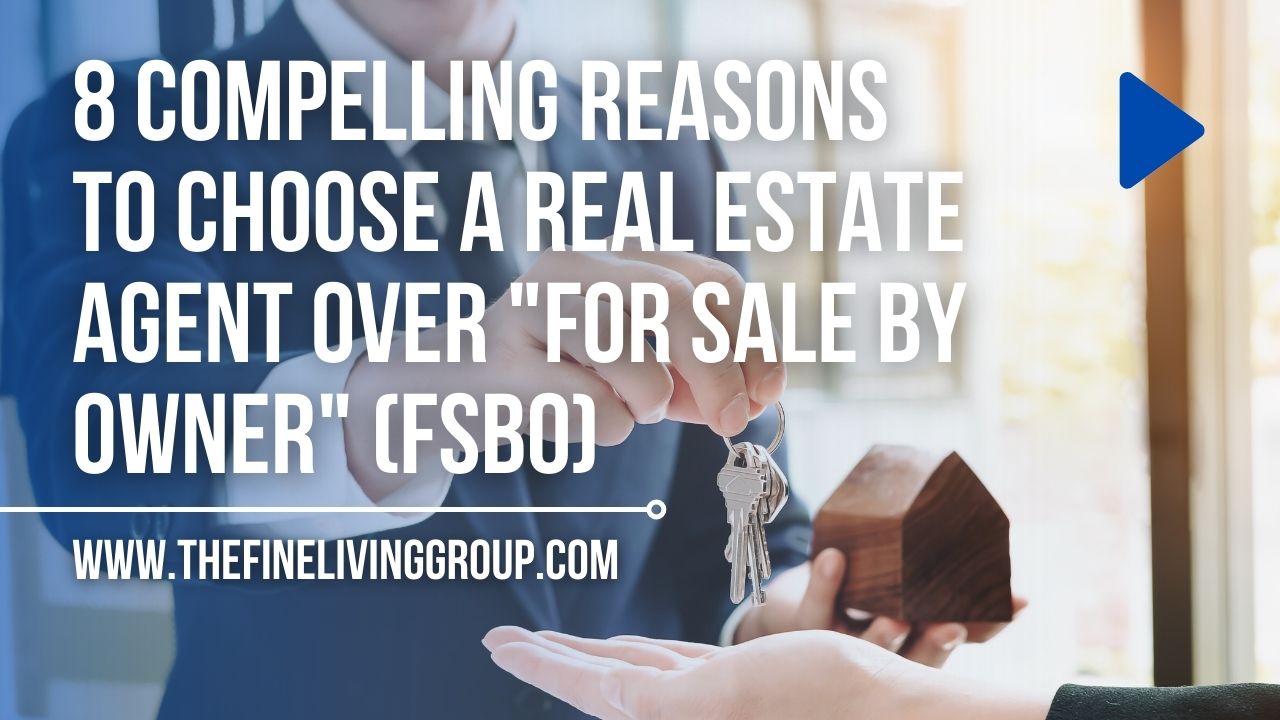 8 Compelling Reasons to Choose a Realtor Over Selling Your Home "For Sale By Owner" (FSBO)
When it comes to selling your home, you may be tempted by the idea of going the "For Sale By Owner" (FSBO) route to save on commissions. After all, the standard real estate agent's commission can eat into your profits, right? However, before you embark on this solo journey, consider these eight compelling reasons why choosing a realtor is a smarter choice:
1. Realtors May Not Show a "For Sale By Owner" Home
In an FSBO transaction, the buyer's agent often hesitates because there's no professional representation on the seller's end. This can deter potential buyers, as they may perceive higher risks and complications. Experienced realtors may be reluctant to engage in FSBO deals, as they've encountered situations where sellers didn't honor the agreed-upon commissions.
However, with a realtor, you can establish clear terms, including a reasonable commission rate (typically 2% to 3%). Additionally, they can ensure that all necessary information is disclosed to the buyer, addressing concerns like closing dates. This way, you can attract serious buyers while navigating the intricacies of the real estate market with confidence.
2. Agents Offer Objectivity in Emotional Sales
Selling a home can be an emotional rollercoaster. Realtors provide a buffer, preventing you from making impulsive decisions due to strong emotions. They can follow up with potential buyers without appearing desperate or eager, preserving your negotiating power.
Without a realtor, you'll need to handle buyer rejections personally, which can be emotionally taxing. Realtors are skilled at managing feedback constructively and professionally, ensuring your selling process remains focused on the best outcome.
3. Real Estate Is a Full-Time Job
Selling a home demands a significant time investment. Are you prepared to rush home from work for last-minute showings or answer calls during meetings? Do you possess the marketing expertise to promote your property effectively? Likely not. Realtors, on the other hand, are equipped for this role. They can provide a lockbox for your home, allowing showings even when you're unavailable.
4. Agents Have Vast Networks
Listing your home on websites like Zillow or Redfin is a start, but it's often insufficient. Realtors possess extensive networks of clients, fellow agents, and real estate agencies. This vast network ensures your property reaches a broader audience, increasing demand and potentially accelerating your sale.
A skilled realtor can disseminate information quickly to potential buyers, thanks to their extensive contact lists. This kind of exposure can make all the difference in selling your home promptly and at a favorable price.
5. Screening Out Unqualified Buyers
One of the challenges of FSBO is distinguishing genuine buyers from mere curiosity seekers. Realtors excel at assessing the seriousness and qualification of prospective buyers. They ask crucial questions like the buyer's search duration, financing options, and specific needs.
Moreover, having the seller present during showings can make buyers uncomfortable, hindering their ability to fully explore your property. With a realtor, this issue is mitigated as they handle property tours professionally.
6. Expertise in Price Negotiations
Negotiating the sale price of your home is a complex task. Realtors are negotiation experts, having handled numerous transactions. They can identify potential pitfalls, navigate buyer concerns, and maintain professionalism throughout the process.
In contrast, without a realtor, you may find it challenging to negotiate effectively, potentially leading to lower profits. Realtors are well-versed in local market conditions, ensuring you don't concede unnecessary terms.
7. Identifying and Addressing Your Home's Flaws
Realtors are adept at identifying aspects of your home that require improvement to attract buyers and secure better offers. They offer valuable suggestions to enhance your home's appeal.
Additionally, they can help you decipher which feedback from potential buyers is worth acting on, a critical factor in improving your home's chances of selling quickly.
8. Protection from Legal Risks
Real estate transactions entail complex legal paperwork, including seller's disclosures. Realtors are well-versed in these legalities and can ensure all documents are completed accurately and ethically.
By opting for FSBO, you expose yourself to legal risks, as improper disclosure can lead to lawsuits. Realtors possess professional errors and omissions insurance, safeguarding you and providing recourse in case of any issues.
Thinking of Selling Your Home, Call us Today at 301-651-4900, or Fill Out the Form Below!
Frequently Asked Questions (FAQ)
When deciding between hiring a realtor or pursuing the "For Sale By Owner" (FSBO) route for selling your home, you might have some key questions. Here are five frequently asked questions and their concise answers to help you make an informed choice:
1. What is FSBO, and why should I choose a realtor instead?
FSBO

means selling your home without a real estate agent. Opting for a realtor is advantageous due to their expertise, marketing resources, negotiation skills, and legal protection they provide during the home-selling process.
2. Are realtor commissions worth it?
Realtor commissions, typically around 5% to 6% of the sale price, can be justified by the potential for a higher selling price that covers these fees and potentially leaves you with more profit than an FSBO sale.
3. Can I negotiate the realtor's commission rate?
Yes, realtor commissions are negotiable. Discuss commission rates with your chosen realtor to find a fee structure that suits your budget.
4. How do realtors effectively market my property?
Realtors leverage their extensive marketing tools and platforms, including MLS, online listings, social media, and personal networks, to ensure your property gets maximum exposure to potential buyers.
5. What are the legal risks associated with FSBO?
FSBO carries potential legal risks, primarily related to incomplete or incorrect disclosure. Realtors, knowledgeable in legal requirements, help safeguard you from such risks by ensuring proper disclosure.
Conclusion
Selling your home is a significant undertaking, and choosing the FSBO route can be challenging and potentially costly in the long run. While saving on commissions may seem appealing, the advantages of hiring a realtor are numerous. Realtors offer broader exposure, negotiation expertise, protection from legal risks, and more, making them a valuable asset in ensuring your home sale proceeds smoothly and profitably.
Don't risk the complexities of the real estate market alone; consider the expertise and support that a professional realtor can bring to your home-selling journey.
Real Estate Market Reports
Rockville MD Real Estate Listings