For Sale Real Estate
Posted by Jon Lahey on Wednesday, May 10, 2023 at 11:31:31 PM
By Jon Lahey / May 10, 2023
Comment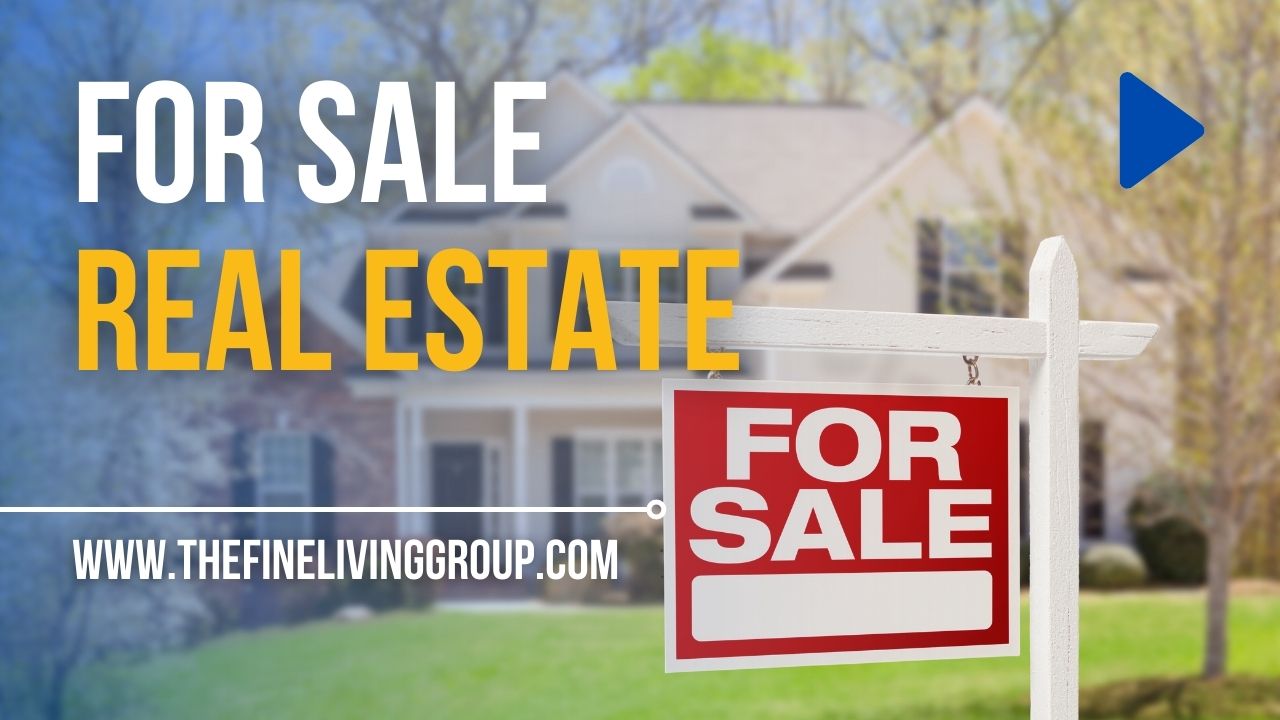 For Sale Real Estate
Real estate has always been a fascinating and dynamic market. Whether you're a homeowner looking to sell your property or an investor exploring new opportunities, understanding the ins and outs of selling real estate is essential. In this article, we'll delve into the world of real estate sales, exploring the importance of selling, effective strategies, the role of technology, and the future of the market.
Introduction
Real estate encompasses a wide range of properties, including residential homes, commercial buildings, and vacant land. The real estate market is influenced by various factors such as economic conditions, location, supply and demand, and government policies. Selling real estate involves a complex process that requires careful planning, effective marketing, and skilled negotiation.
Understanding the Real Estate Market
To navigate the real estate market successfully, it's crucial to have a solid understanding of its dynamics. Several factors impact the market, including interest rates, unemployment rates, population growth, and consumer confidence. These factors influence the demand and supply of properties, ultimately affecting their prices.
Different types of real estate properties exist, each with its unique characteristics and market dynamics. Residential real estate includes single-family homes, condominiums, townhouses, and apartments. Commercial real estate involves properties used for business purposes, such as office buildings, retail spaces, and industrial facilities. Additionally, there's vacant land, which offers development opportunities.
The Importance of Selling Real Estate
Selling real estate is a significant decision for homeowners, investors, and developers. It presents various benefits and challenges that should be carefully considered.
Benefits of Selling Real Estate
Selling real estate allows homeowners to unlock the equity they've built in their property. It provides an opportunity to move to a new location, upgrade to a larger home, or downsize to a more manageable property. For investors, selling real estate can result in substantial profits, especially if they've made wise property investments.
Challenges of Selling Real Estate
The real estate market can be competitive and unpredictable. Property owners may face challenges such as pricing their property appropriately, attracting potential buyers, and negotiating the best deal. Additionally, factors like market conditions, location, and property condition can affect the speed and success of a sale.
The information being provided by Bright MLS is for the consumer's personal, non-commercial use and may not be used for any purpose other than to identify prospective properties consumer may be interested in purchasing. Any information relating to real estate for sale referenced on this web site comes from the Internet Data Exchange (IDX) program of the Bright MLS. The Fine Living Group is not a Multiple Listing Service (MLS), nor does it offer MLS access. This website is a service of The Fine Living Group, a broker participant of Bright MLS. This web site may reference real estate listing(s) held by a brokerage firm other than the broker and/or agent who owns this web site.

The accuracy of all information, regardless of source, including but not limited to open house information, square footages and lot sizes, is deemed reliable but not guaranteed and should be personally verified through personal inspection by and/or with the appropriate professionals. The data contained herein is copyrighted by Bright MLS and is protected by all applicable copyright laws. Any unauthorized dissemination of this information is in violation of copyright laws and is strictly prohibited.

Copyright 2023 Bright MLS. All rights reserved.
Effective Strategies for Selling Real Estate
Successfully selling real estate requires implementing effective strategies. Here are some key steps to consider:
1. Setting the Right Price
Determining the right listing price is crucial to attract buyers and maximize profits. Conducting a comparative market analysis, considering recent sales and market trends, can help determine an accurate price range.
2. Preparing the Property for Sale
Preparing the property for sale is essential to make a positive impression on potential buyers. This involves decluttering, staging, making necessary repairs, and enhancing curb appeal. A well-presented property creates a favorable environment for buyers to envision themselves living or conducting business in the space.
3. Marketing and Advertising
To reach a wide pool of potential buyers, effective marketing and advertising strategies are essential. Utilizing online platforms, social media, and traditional marketing channels can increase the property's visibility. High-quality photographs, virtual tours, and compelling property descriptions can attract prospective buyers and generate interest.
4. Hiring a Real Estate Agent
Working with a professional real estate agent can streamline the selling process and increase the chances of a successful sale. Agents possess in-depth market knowledge, have access to a network of potential buyers, and excel in negotiations. They can guide sellers through pricing strategies, marketing techniques, and handling the legal aspects of the transaction.
5. Negotiating and Closing the Sale
Negotiating skills play a crucial role in achieving a favorable outcome during the sale of real estate. Sellers should be prepared to negotiate on price, terms, and contingencies. Once a deal is reached, the closing process involves paperwork, inspections, and finalizing the financial aspects of the transaction.
The Role of Technology in Real Estate Sales
Technology has revolutionized the real estate industry, providing innovative tools and platforms that enhance the selling process. Here are some ways technology influences real estate sales:
1. Online Listings and Virtual Tours
Online listings and virtual tours allow potential buyers to explore properties remotely. High-quality photographs, 360-degree virtual tours, and detailed property information enable buyers to assess properties without physically visiting them. This technology widens the reach of sellers and expedites the decision-making process.
2. Social Media Marketing
Social media platforms provide an excellent opportunity for targeted marketing. Real estate agents and sellers can showcase properties, share listings, and engage with potential buyers. Platforms like Facebook, Instagram, and LinkedIn allow for highly targeted advertising, reaching audiences based on location, demographics, and interests.
3. Real Estate Websites and Apps
Real estate websites and mobile apps offer comprehensive databases of properties for sale. Buyers can search for specific criteria, access property details, and save favorites for later reference. These platforms also provide market insights, mortgage calculators, and neighborhood information, aiding buyers in their decision-making process.
The Future of Real Estate Sales
The real estate industry is continuously evolving, embracing new technologies and trends. Here are some factors shaping the future of real estate sales:
1. Emerging Technologies and Trends
Technologies such as virtual reality (VR), augmented reality (AR), and artificial intelligence (AI) are transforming the way buyers interact with properties. Virtual reality tours, AI-driven property recommendations, and predictive analytics enable buyers to make informed decisions and visualize properties in immersive ways.
2. Sustainable and Smart Real Estate
With increasing environmental awareness, sustainable and smart real estate is gaining prominence. Energy-efficient features, smart home automation, and green building practices are attracting buyers who prioritize sustainability. The integration of technology and sustainability will shape future real estate sales and property development.
Conclusion
Selling real estate requires careful planning, effective strategies, and adaptation to the ever-changing market dynamics. By understanding the importance of selling, implementing proven techniques, leveraging technology, and anticipating future trends, sellers can maximize their chances of a successful sale. Whether it's a residential property, commercial space, or vacant land, the real estate market offers opportunities for buyers and sellers to achieve their goals.
Real Estate Market Reports
How can I determine the right price for my property? Conducting a comparative market analysis is essential to determine the right price range for your property. This involves assessing recent sales of similar properties in your area and considering market trends.

What are some cost-effective marketing strategies for selling real estate? Utilizing online platforms such as social media, real estate websites, and listing platforms can be cost-effective ways to market your property. High-quality photographs, engaging property descriptions, and virtual tours can attract potential buyers.

What should I do to prepare my property for sale? Preparing your property for sale involves decluttering, staging, making necessary repairs, and enhancing its curb appeal. Creating a welcoming and well-maintained environment can make a significant impact on potential buyers.

How long does it typically take to sell real estate? The time it takes to sell real estate can vary depending on various factors such as location, market conditions, and property type. On average, it can take several weeks to a few months to complete a sale.

How can technology help streamline the selling process? Technology offers various tools and platforms that simplify the selling process. Online listings, virtual tours, and real estate websites enable potential buyers to access property information remotely, increasing exposure and expediting decision-making.

What are some emerging trends in real estate sales? Emerging trends in real estate sales include the use of virtual reality and augmented reality for immersive property experiences, the integration of smart home technology, and a growing emphasis on sustainable and eco-friendly proper

What is the best time to sell real estate? The best time to sell real estate may vary depending on local market conditions. However, spring and summer months often see increased buyer activity and higher selling prices.

Should I hire a real estate agent to sell my property? While it's not mandatory, hiring a real estate agent can greatly benefit the selling process. Agents have extensive knowledge of the market, access to a network of potential buyers, and expertise in negotiating and closing deals.