Maximizing Your Home's Value: 15 Expert Tips for Success
Posted by Jon Lahey on Monday, October 30, 2023 at 11:38:34 AM
By Jon Lahey / October 30, 2023
Comment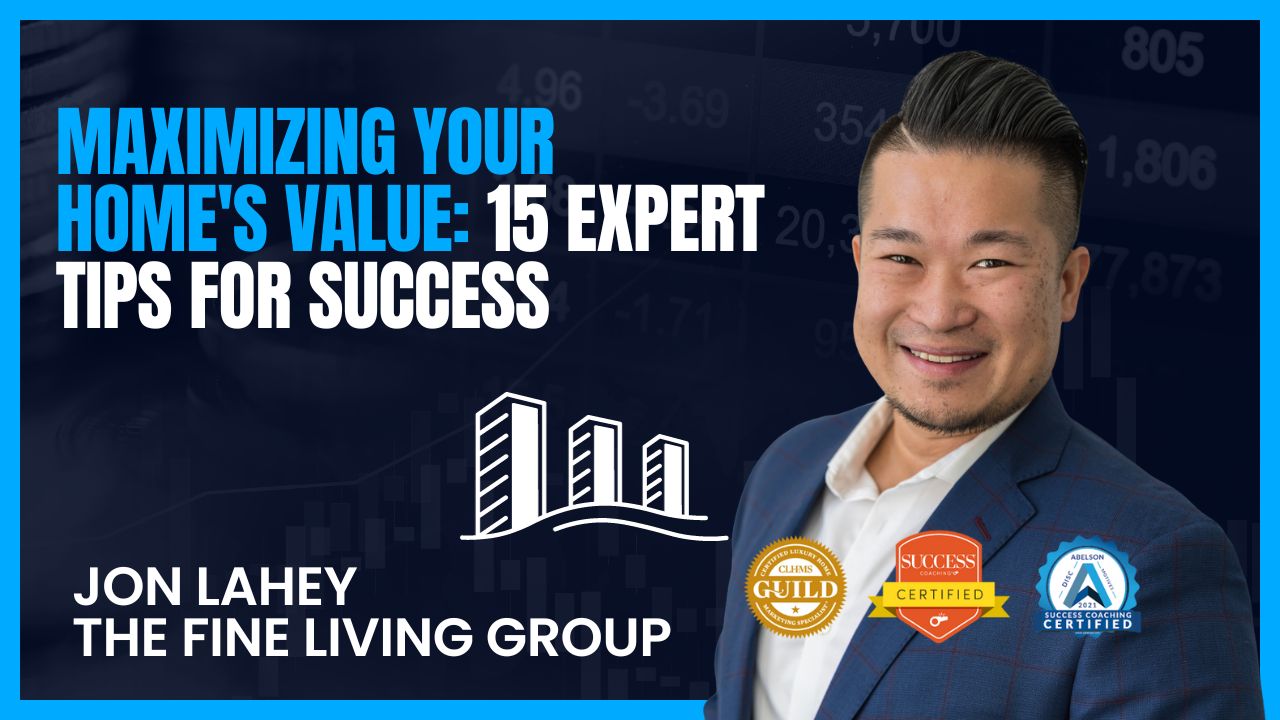 Maximizing Your Home's Value: 15 Expert Tips for Success
In our quest to help you maximize your home's value and outperform the competition, we've compiled a comprehensive guide packed with 15 expert tips that will transform your property into a real estate gem. Whether you're planning to sell or simply want to boost your home's market value, these strategies will elevate your property to the next level.
1. Curb Appeal: A Strong First Impression
Your home's exterior sets the tone for the entire property.
Investing in landscaping, a fresh coat of paint, and a well-maintained driveway can significantly boost your home's curb appeal. A welcoming entrance is essential for attracting potential buyers.
2. Kitchen Remodeling: The Heart of the Home
The kitchen is often the focal point of any home.
Consider updating your kitchen with modern appliances, countertops, and cabinetry. A well-designed kitchen can be a major selling point and increase your home's value.
3. Bathroom Renovation: Function and Elegance
The bathroom is a space of relaxation and rejuvenation.
Renovating your bathrooms, ensuring they are both functional and stylish, can add substantial value to your property. Consider upgrades such as new fixtures, tiling, and lighting.
4. Open Concept Layout: Spacious Living
Open spaces create a sense of spaciousness and flow.
Knocking down non-structural walls to create an open concept living area can make your home feel larger and more inviting. This layout is appealing to many potential buyers.
5. Energy-Efficient Upgrades: Sustainability Sells
Investing in energy efficiency can save money and attract eco-conscious buyers.
Consider installing energy-efficient windows, appliances, and insulation. These upgrades not only reduce utility costs but also make your home more attractive in today's environmentally conscious market.
6. Hardwood Flooring: Timeless Elegance
Hardwood floors offer a classic and durable flooring solution.
Replacing worn-out carpets with hardwood flooring can transform the look and feel of your home. Hardwood is not only aesthetically pleasing but also easy to maintain.
7. Modern Lighting: Illuminate Your Home
Well-placed lighting can enhance the ambiance of your living spaces.
Upgrade your lighting fixtures to create a warm and inviting atmosphere. Adequate lighting can make your home more appealing, especially during showings.
8. Storage Solutions: Organized Living
Ample storage space is a valuable feature for any home.
Consider adding built-in storage solutions like closets and shelving units. Organized spaces make a home appear more functional and appealing.
9. Smart Home Technology: Convenience and Security
Integrate smart home technology for a modern touch.
Incorporate features like a smart thermostat, security system, and home automation. Buyers appreciate the convenience and security these technologies provide.
10. Fresh Paint: A Fresh Start
Painting can instantly refresh and brighten your home.
A fresh coat of paint can hide imperfections and create a clean, welcoming atmosphere. Neutral colors are generally a safe choice for appealing to a broad audience.
11. Basement Finishing: Unleash Hidden Potential
An unfinished basement has untapped potential.
Consider finishing your basement, creating additional living space or an entertainment area. This can significantly increase the usable square footage of your home.
12. Roof Maintenance: Protect Your Investment
Regular roof maintenance is essential for preserving your home's value.
Repair any damage, replace missing shingles, and ensure the roof is in good condition. Buyers often view the roof as a critical component of a home's structural integrity.
13. Bathroom Upgrades: Luxurious Features
Luxurious bathrooms can add a touch of extravagance.
Include features such as a spa tub, double sinks, or a rainfall showerhead. These upgrades can make your home stand out in the market.
14. Outdoor Living Space: Extend Your Home
Outdoor spaces can be an extension of your living area.
Create a comfortable outdoor living space with a well-maintained deck or patio. This allows potential buyers to envision themselves enjoying the outdoors.
15. Window Treatments: Elegance and Privacy
Quality window treatments can enhance your home's aesthetics.
Invest in stylish curtains, blinds, or shutters to improve privacy and control natural light. This adds to the overall appeal of your home.
Thinking of Selling Your Home, Call us Today at 301-651-4900, or Fill Out the Form Below!
Frequently Asked Questions (FAQs)
1. How long does it take to see an increase in my home's value after implementing these tips?
The time it takes to see a noticeable increase in your home's value can vary. Some improvements, like fresh paint or decluttering, can have an immediate impact. However, larger renovations, such as a kitchen remodel or finishing a basement, may take longer to show a return on investment.
2. Do I need to implement all 15 tips to increase my home's value?
Not necessarily. The tips provided in this guide are meant to be a comprehensive list of potential improvements. You can choose the ones that best suit your budget, goals, and the current state of your home. Prioritize the tips that will have the most significant impact for your situation.
3. How can I finance these home improvements?
There are various ways to finance home improvements. You can use personal savings, take out a home equity loan, apply for a home improvement loan, or use a credit card. Be sure to assess the costs and benefits of each option to determine what works best for your financial situation.
4. What are the most cost-effective improvements for increasing home value?
Cost-effective improvements include decluttering, fresh paint, landscaping, and minor repairs. These updates typically have a relatively low cost and can yield a high return on investment.
5. Is it necessary to hire professionals for all the listed improvements?
While hiring professionals for certain improvements is recommended, many can be done as DIY projects. Simple tasks like painting, decluttering, and minor landscaping can often be tackled without professional assistance. For larger projects, such as a kitchen remodel or roof maintenance, it's advisable to consult with experts.
Conclusion
In conclusion, the 15 expert tips provided in this guide are a roadmap to maximize your home's value and stand out in the real estate market. By following these strategies, you can transform your property into an attractive and sought-after gem. Whether you're planning to sell your home or simply want to enhance its market value, these tips are your key to success.
Real Estate Market Reports
Rockville MD Real Estate Listings