Real Estate Marketing Ideas to Outrank Your Competition
Posted by Jon Lahey on Tuesday, October 3, 2023 at 2:17:02 PM
By Jon Lahey / October 3, 2023
Comment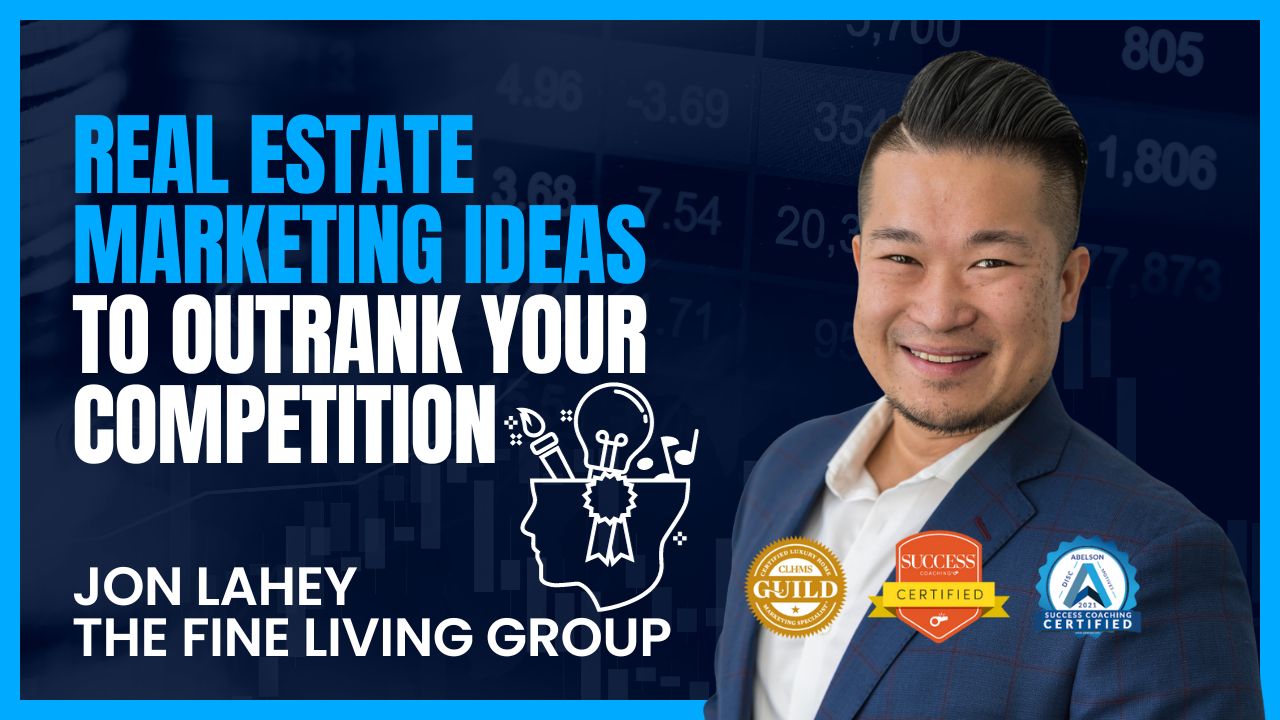 Real Estate Marketing Ideas to Outrank Your Competition
In the fiercely competitive world of real estate, outranking your competition in the digital realm is imperative for success. As per a 2022 study by the National Association of Realtors (NAR), 86% of homebuyers rely on real estate agents or brokers during their property purchase. Additionally, a staggering 73% of buyers tend to stick with the first real estate agent they encounter during their home search. This highlights the critical importance of building an online presence and establishing awareness to capture potential buyers swiftly. To achieve this, one must harness a robust real estate marketing strategy.
1. Establish a Compelling Website
Stand Out with an Exceptional Online Presence
Creating a website is the foundational step towards an effective real estate marketing strategy. Your website serves as the digital hub where prospective clients can explore property listings and learn more about your real estate agency or individual expertise. Ensure that your website is user-friendly, regularly updated with listings, and offers unique features to set it apart from the competition. Consider adding value with tools like a mortgage calculator, which provides convenience and keeps visitors engaged.
2. Harness the Power of Blogging
Elevate Your Expertise Through Content
Blogging isn't just a buzzword; it's a potent tool for establishing authority in the real estate industry. Craft blog content optimized for SEO to ensure your posts surface in prospective clients' search results. Tools like Google Analytics and Ahrefs can assist in identifying relevant keywords and topics. Leverage your blog to share industry insights, advice, and local real estate news, demonstrating your knowledge and commitment to potential clients.
3. Execute Effective Email Marketing
Stay Top of Mind with Valuable Updates
Email marketing campaigns are invaluable for staying connected with past and potential clients in the real estate domain. Regular newsletters that include blog content and property listings updates are an excellent way to keep your audience engaged. Incorporate engaging content such as property images, video walkthroughs, and virtual stagings to entice recipients and maintain their interest.
4. Virtual Staging for Visual Impact
Enhance Property Appeal in a Digital World
The real estate landscape is increasingly digital, making virtual staging a vital tool. It provides prospective buyers with a sneak peek into the potential of a property without physical staging costs. A 2023 study showed that staged homes often fetch higher prices, making virtual staging a compelling option. By offering a virtual representation of furnished properties, you help buyers visualize the space and its potential, setting your listings apart.
5. Embrace Experiential Marketing
Immerse Buyers in Your Brand
Experiential marketing creates immersive experiences that resonate with real estate buyers. Host tours of the areas you're selling in, educational events about home buying, or open houses. These events allow buyers to engage fully with property listings, fostering deeper connections and higher conversion rates.
6. Forge Local Business Partnerships
Leverage Local Connections for Promotion
Leverage your local network by partnering with nearby businesses such as boutiques, home decor showrooms, and coffee shops to promote your listings. Collaborate on open house events and even consider pop-up shops within properties to entice prospective buyers. Building brand recognition with local businesses can lead to word-of-mouth referrals and enhanced community connections.
7. Leverage Paid Instagram Promotion
Targeted Advertising for Wider Reach
Instagram is a potent platform for reaching homebuyers. Utilize paid promotions to target specific demographics, ensuring that your posts reach the most relevant audience. Video ads not only showcase listings but also allow you to showcase your personality, fostering credibility and rapport with potential clients.
8. Elevate Listings with Drone Photography
Captivate Buyers with Aerial Views
Drone photography adds a touch of professionalism and allure to property listings. Stunning aerial shots of homes and surrounding landscapes enhance the appeal of listings, providing potential buyers with a comprehensive view of the property.
9. Harness the Power of Zillow
Expand Reach with a Zillow Profile
With over 188 million monthly viewers, Zillow offers an expansive platform to showcase your listings and connect with potential clients. Setting up a Zillow profile allows you to share listings with a broader audience, increasing the chances of attracting new buyers.
10. Request Referrals
Unlock High-Quality Leads through Recommendations
Referrals are a goldmine in real estate. Ask satisfied clients for referrals and maintain follow-up communication with past buyers. A friendly reminder at closing or through email can prompt clients to recommend your services to friends and family, leveraging trust and familiarity.
Thinking of Selling Your Home, Call us Today at 301-651-4900, or Fill Out the Form Below!
1. What are the key benefits of having a professional real estate website?
A professional real estate website serves as a digital showcase for your listings and expertise. It allows you to reach a wider audience, establish credibility, and provide valuable information to potential clients. Additionally, it can enhance your personal brand, showcase positive client reviews, and generate qualified leads.
2. How can I make my email marketing campaigns more effective?
To improve the effectiveness of your email marketing campaigns, consider these tips:
Personalize your emails.
Segment your email list based on client preferences.
Craft compelling subject lines to boost open rates.
Include visually appealing content like property images and videos.
Add urgency and curiosity to your email subject lines.
Provide valuable and relevant content to engage recipients.
3. What is virtual staging, and why should I use it in my real estate marketing?
Virtual staging is the process of digitally furnishing and decorating properties to showcase their potential to buyers. It is a cost-effective alternative to physical staging and helps buyers visualize a property's possibilities. Virtual staging can increase property appeal, save time, and attract more prospective buyers.
4. How can I effectively use social media for real estate marketing?
Using social media effectively in real estate marketing involves:
Establishing an active presence on platforms like Facebook, Twitter, and LinkedIn.
Joining local groups to answer questions and provide insights.
Sharing valuable content, including property listings and market updates.
Engaging with followers and responding to inquiries promptly.
Collaborating with influencers and leveraging targeted hashtags in paid promotions.
5. What role does drone photography play in real estate marketing?
Drone photography offers aerial views of properties and their surroundings, providing buyers with a comprehensive perspective. It adds professionalism to listings and can attract more attention from potential buyers. Drone photography is especially beneficial for showcasing properties in scenic or expansive locations.
Conclusion
In the fiercely competitive real estate landscape, your digital marketing strategy is your key to outshining competitors. From a compelling website to engaging social media presence, and from virtual staging to drone photography, these 25 real estate marketing ideas offer a roadmap to outperform the competition. By implementing these strategies and continually refining your approach, you can establish a strong online presence and capture the attention of prospective buyers and sellers in today's digital world.
Real Estate Market Reports
Rockville MD Real Estate Listings