Renovate Now, Pay Later: Transform Your Home Selling Experience
Posted by Jon Lahey on Tuesday, November 21, 2023 at 10:46:10 AM
By Jon Lahey / November 21, 2023
Comment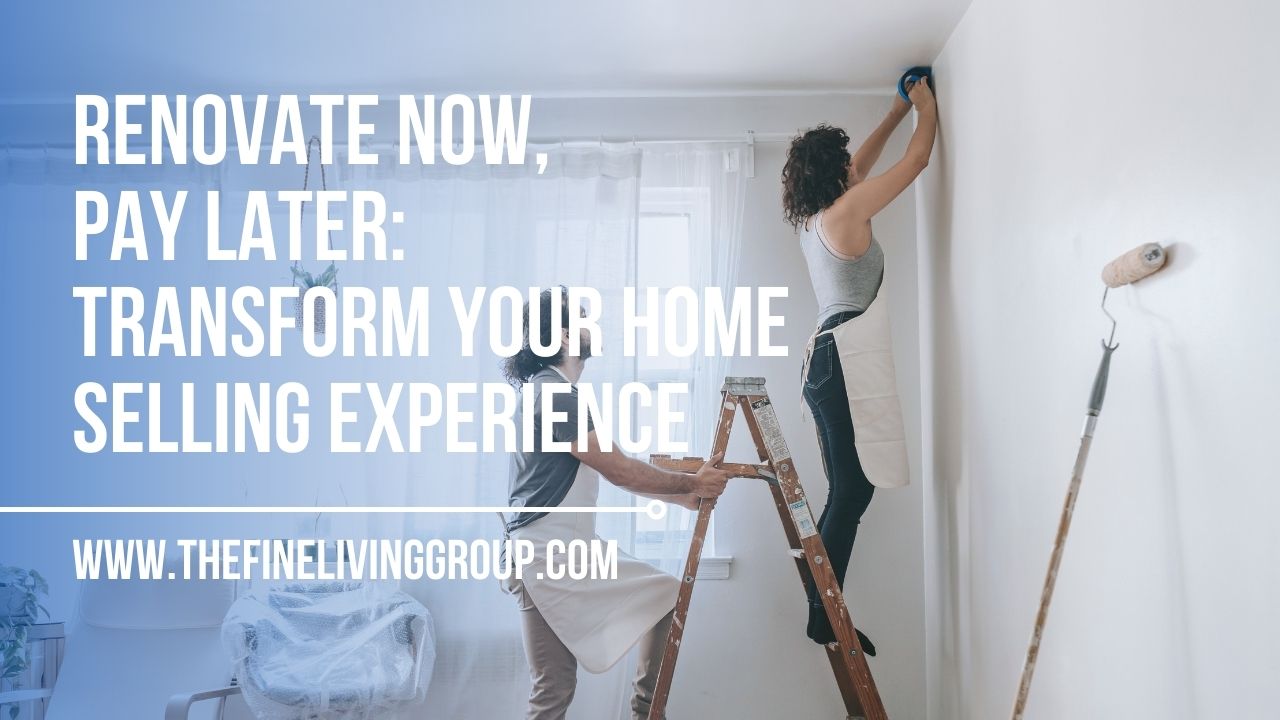 Renovate Now, Pay Later: Transform Your Home Selling Experience
Unveiling The Fine Living Group's Innovative Strategy
Are you hesitant to sell your home due to renovation costs? The Fine Living Group offers a groundbreaking solution: "Fix Now, Pay When You Sell." This revolutionary approach removes the financial stress of renovations, empowering you to enhance your home's appeal without immediate expenses. Let's delve into this transformative concept.
Decoding "Fix Now, Pay When You Sell"
The Fine Living Group introduces a unique proposition: homeowners can renovate before selling, deferring costs until the sale finalizes. This strategy alleviates the financial strain associated with immediate home improvements, streamlining the selling process.
Exploring the Advantages
1. Financial Freedom
Traditional selling demands upfront renovation costs. With this program, sellers can upgrade without immediate financial strain, enabling impactful renovations without depleting resources.
2. Value Maximization
Strategic renovations significantly boost property value. Upgrading kitchens, enhancing curb appeal, or modernizing spaces attract buyers. Deferred payment ensures the rewards without upfront stress.
3. Competitive Edge
Updated homes stand out. This program positions your property as desirable and move-in-ready, giving an edge in the competitive market.
The Process in Four Steps
1. Consultation and Assessment
Experts assess your property, offering insights into impactful renovations that elevate its value.
2. Customized Renovation Plan
Tailored plans address specific areas, aligning with your budget and preferences.
3. Professional Services
Collaboration with skilled professionals ensures top-quality renovations, from minor upgrades to major transformations.
4. Deferred Payment
Costs are recouped from sale proceeds, allowing you to enjoy a renovated home without immediate financial strain.
Is This Program Right for You?
Ideal for homeowners hesitant due to renovation costs, it's perfect for enhancing appeal, maximizing market value, and navigating the selling process seamlessly.
Embrace the Future of Home Sales
Selling your home needn't be stressful or financially draining. The Fine Living Group's innovative approach lets you renovate now, pay later—a seamless path to a successful sale. Embrace "Fix Now, Pay When You Sell."
Thinking of Selling Your Home, Call us Today at 301-651-4900, or Fill Out the Form Below!
Frequently Asked Questions (FAQs) about "Fix Now, Pay When You Sell"
1. How does "Fix Now, Pay When You Sell" differ from traditional renovation approaches?
This program allows homeowners to renovate before selling, deferring the renovation costs until the property is sold. Unlike traditional methods that require upfront investment, this strategy eases the immediate financial burden of renovations.
2. Are there limitations to the types of renovations covered under this program?
The Fine Living Group tailors renovation plans to enhance the property's market value. While specific renovations might vary, the program covers a wide range of upgrades, from minor improvements to major transformations, depending on the property's needs.
3. What happens if my property doesn't sell after the renovations are completed?
In the event that the property doesn't sell immediately after renovations, the Fine Living Group provides flexible terms to accommodate various selling timelines. The deferred payment structure ensures that costs are only recouped upon successful property sale.
4. Can I choose my own contractors or professionals for the renovations?
The Fine Living Group collaborates with a network of skilled professionals to ensure top-quality renovations. However, homeowners can discuss preferences, and the group will work towards accommodating specific requests wherever possible.
5. Will participating in this program affect the final selling price of my home?
While renovations aim to increase the property's market value, the final selling price can depend on various market factors. However, enhancing your home's appeal through strategic renovations often positions it favorably in the market, potentially leading to a higher selling price.
Real Estate Market Reports
Rockville MD Real Estate Listings