Top 10 Tips for Selling Your Home During the Holidays
Posted by Jon Lahey on Thursday, November 2, 2023 at 11:41:58 AM
By Jon Lahey / November 2, 2023
Comment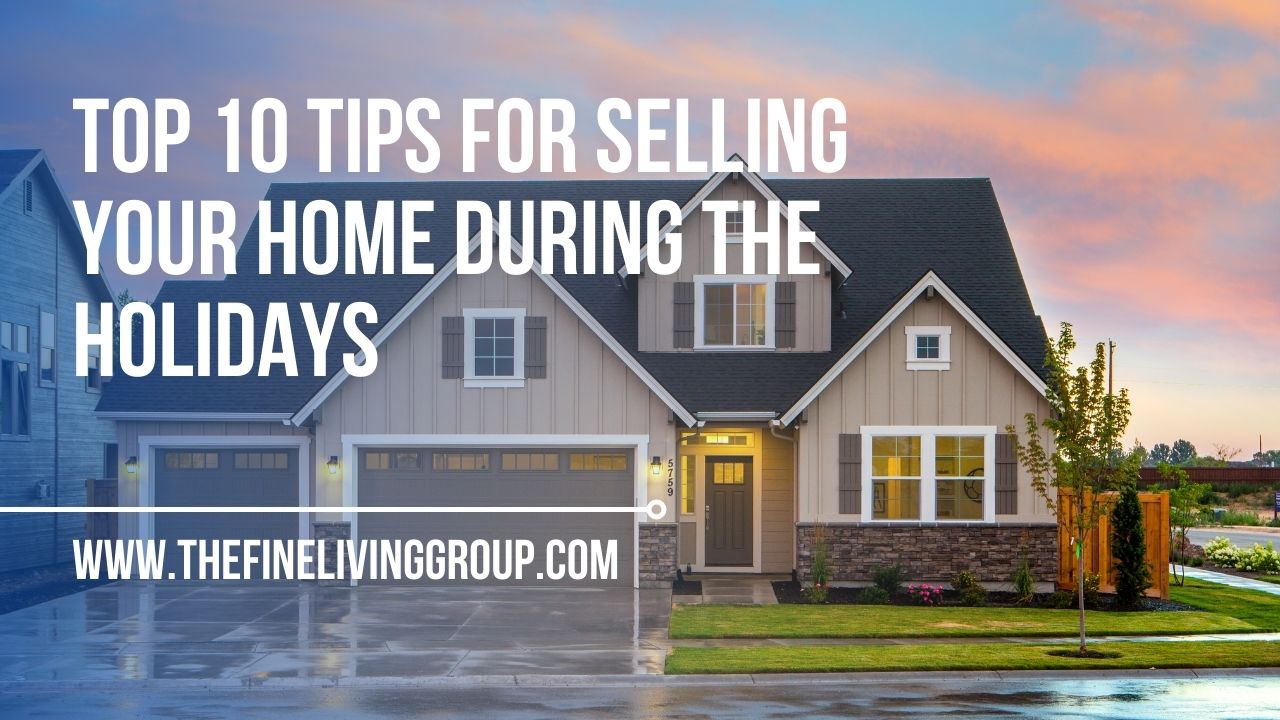 Top 10 Tips for Selling Your Home During the Holidays
In the world of real estate, timing is crucial, and the holiday season presents unique opportunities for those looking to sell their homes. While there are multiple factors to consider for a successful holiday home sale, we're here to provide you with the top 10 tips to maximize your chances and make the most of this festive season.
1. Deck the Halls with Subtle Decor
While you want to create a warm and inviting atmosphere, avoid overwhelming your home with excessive holiday decorations. Subtle touches, such as a beautifully decorated tree, a festive wreath, and some twinkling lights, can add charm without distracting potential buyers.
2. Price Competitively
The holiday season is a buyer's market, so pricing your home competitively is essential. Research local real estate trends and consult with your real estate agent to set an attractive and realistic price.
3. Professional Staging
Staging your home is crucial to make it look its best. Consider professional staging services to ensure that your home's layout and presentation appeal to potential buyers.
4. Highlight Energy Efficiency
As temperatures drop, energy efficiency becomes a major selling point. Highlight your home's energy-efficient features, such as well-insulated windows, efficient heating systems, and LED lighting, to attract eco-conscious buyers.
5. Cozy Ambiance
Create a cozy ambiance by lighting a fire in the fireplace and setting the thermostat at a comfortable level. Ensure that your home is warm and inviting during showings.
6. Flexible Showing Schedule
Be flexible with your showing schedule to accommodate potential buyers' holiday plans. This might mean showing your home during evenings or weekends to maximize exposure.
7. Great Curb Appeal
First impressions matter. Enhance your home's curb appeal by keeping walkways clear of snow, adding some winter-friendly landscaping, and ensuring your home's exterior looks well-maintained.
8. Quality Listing Photos
High-quality photos are essential to showcase your home effectively. Make sure your listing features professional photos taken in good lighting, both inside and outside.
9. Promote Festive Features
Highlight any unique holiday features your home offers, such as a spacious dining room for holiday gatherings or a cozy nook for reading by the fire. Emphasizing these features can help your home stand out.
10. Engage in Online Marketing
Leverage the power of online marketing to reach a wider audience. Use social media, real estate websites, and email marketing to promote your holiday listing.
Thinking of Selling Your Home, Call us Today at 301-651-4900, or Fill Out the Form Below!
Frequently Asked Questions (FAQs)
Q1. Is it a good idea to sell my home during the holidays?
A1. Yes, selling your home during the holidays can be a great idea. There's less competition, and serious buyers are often looking to make a purchase before the new year.
Q2. Should I decorate my home extensively for showings?
A2. No, it's best to keep holiday decorations subtle. Overly elaborate decor can distract potential buyers, so focus on creating a warm but not overwhelming atmosphere.
Q3. How can I make my home energy-efficient for the winter season?
A3. To make your home more energy-efficient, ensure it's well-insulated, invest in efficient heating systems, and switch to LED lighting.
Q4. What should I do if I have to travel during the holidays?
A4. If you have to travel, make sure your real estate agent can still arrange showings. Being flexible with your showing schedule is important.
Q5. How can I effectively market my home online?
A5. Use social media, real estate websites, and email marketing to reach a wider audience. High-quality photos and detailed descriptions are key.
Conclusion
Selling your home during the holidays can be a rewarding experience with the right strategy. By following these ten tips and considering the FAQs, you can increase your chances of a successful sale, outranking competitors, and making your property the top choice for holiday homebuyers.
Real Estate Market Reports
Rockville MD Real Estate Listings