Unlocking the Hidden Gems of Partridge Place Neighborhood in Montgomery Village, MD
Posted by Jon Lahey on Tuesday, October 31, 2023 at 12:54:26 PM
By Jon Lahey / October 31, 2023
Comment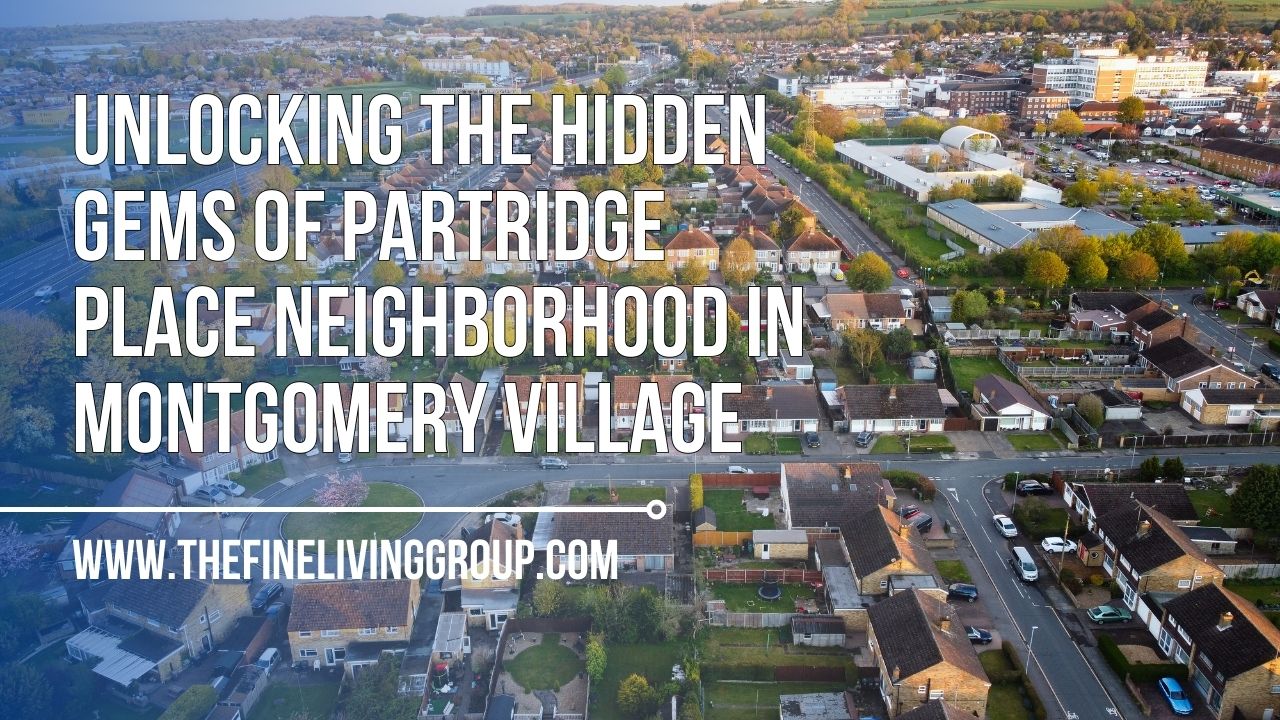 Unlocking the Hidden Gems of Partridge Place Neighborhood in Montgomery Village, MD
Introduction
Welcome to the Partridge Place neighborhood in Montgomery Village, Maryland, where the perfect blend of serenity and convenience awaits you. As you explore this hidden gem, you'll discover why it's the ideal place to call home, boasting an array of amenities and a vibrant community spirit. In this article, we'll delve into the essence of Partridge Place, showcasing why it stands out among the rest.
Location and Accessibility
Partridge Place, Montgomery Village, MD is strategically situated, offering residents easy access to both the bustling city of Gaithersburg and the natural beauty of Seneca Creek State Park. Its prime location enables quick commuting to major employment centers and provides a plethora of shopping, dining, and recreational options. Residents can revel in the harmony of suburban life while staying well-connected to urban amenities.
The Real Estate Landscape
The Partridge Place neighborhood features an impressive range of housing options. From cozy townhomes to spacious single-family houses, there's something for everyone. The diversity of real estate here caters to various lifestyles and budgets. With beautifully manicured lawns and tree-lined streets, the neighborhood exudes a welcoming and family-friendly atmosphere. It's no wonder Partridge Place homes are highly sought after in the Montgomery Village real estate market.
Amenities and Recreation
One of the standout features of Partridge Place is the abundance of amenities available to residents. The neighborhood boasts a community swimming pool, tennis courts, and several playgrounds, making it an ideal destination for families. The nearby Lake Whetstone Park offers a serene spot for picnics and leisurely walks. Plus, the Seneca Creek State Park, just a stone's throw away, provides opportunities for hiking, boating, and picnicking.
Education and Schools
For families with children, Partridge Place is well-served by top-rated schools in the Montgomery County Public School system. Education is a priority in the community, and the neighborhood's proximity to quality schools adds to its appeal.
Community Spirit
Partridge Place residents enjoy a strong sense of community. Regular events and gatherings bring neighbors together, fostering a sense of belonging. Whether it's the annual block party, neighborhood clean-up drives, or community meetings, there's a genuine commitment to creating a tight-knit community that cares for one another.
Commuting and Transportation
The neighborhood's proximity to major transportation arteries, including I-270 and the Shady Grove Metro Station, makes commuting to Washington D.C. and surrounding areas a breeze. Partridge Place is strategically located to keep the daily commute stress-free, allowing residents to spend more time doing what they love.
Safety and Security
Safety is a top priority in Partridge Place. The neighborhood benefits from a community watch program, ensuring a secure environment for its residents. The low crime rate and vigilant neighbors make it a place where you can feel safe and at ease.
Real Estate Inquiry, Call us Today at 301-651-4900, or Fill Out the Form Below!
Frequently Asked Questions (FAQs)
Q1: How diverse is the real estate in Partridge Place?
A1: Partridge Place offers a diverse range of real estate options, including townhomes and single-family houses, catering to various budgets and lifestyles.
Q2: What recreational opportunities are available in the neighborhood?
A2: Residents can enjoy a community swimming pool, tennis courts, playgrounds, and nearby parks for hiking, boating, and picnicking.
Q3: Are there quality schools in the vicinity?
A3: Yes, Partridge Place is served by top-rated schools in the Montgomery County Public School system.
Q4: How safe is the neighborhood?
A4: Partridge Place prioritizes safety with a community watch program, resulting in a low crime rate and a secure environment for residents.
Q5: Is there easy access to major transportation routes?
A5: Absolutely, with its proximity to I-270 and the Shady Grove Metro Station, commuting to nearby areas, including Washington D.C., is convenient.
Conclusion
In conclusion, Partridge Place in Montgomery Village, MD, is a hidden gem that offers an exceptional living experience. With its prime location, diverse real estate options, fantastic amenities, top-rated schools, strong community spirit, and an emphasis on safety, it truly stands out as an ideal place to call home. If you're looking for the perfect blend of suburban tranquility and urban convenience, Partridge Place is the answer.
Come and experience the charm and comfort that Partridge Place offers, and see for yourself why this neighborhood deserves a prominent spot in the Montgomery Village community.